Renowned for its pioneering talents, WICONA provides aluminium curtain walls and joinery solutions with innovative technology, aiming to exceed market standards and be the reference amongst professionals. Today, the company provides construction professionals with an extensive panel of solutions, together with a comprehensive service package.
Dear WICONA Partner,
WICONA, part of the Norwegian group Hydro, presents this E-Magazine with the lastest WICONA news and events, and a summary from the beginning of the year 2019.
This new communication platform is meant to enable an understanding into the latest developments and trends, we - as WICONA - have defined together with our customers as being and becoming most relevant.
Digitalization – Innovation – Design – Sustainability are the driving factors in all our developments – Project Service, Product Development, IT Solutions and Services - to enable an even faster and better market presence of our customers and stakeholders, ensuring common market success, as partners.

For instance: We are proud to introduce INFINITE ALUMINIUM with the one of the lowest CO2 footprints worldwide. Supporting a better tomorrow and caring about the future generations is our first priority. We are also continuously improving our products to achieve a new level of Cradle to Cradle certifications.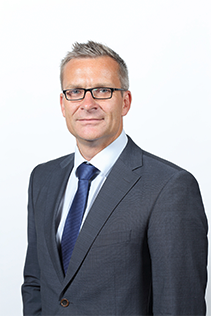 To provide maximum support, WICONA developed in collaboration with customers a new software package. For over 20 years,
WICONA and its WICTOP have consistently helped the customers to get the most out of every project. WICONA has developed
new features for every release of the software, assisting with design & creation all the way through to purchasing and ordering.
Additionally, we offer a WICTOP hotline available for support and training. Also, the refreshed WICTIP – the technical platform – was
done with a strong focus on the customer needs.

By supporting our customer we keep being innovative by launching new solutions, such as the Virtual Showroom that you can download on
www.wicona.de. This solution, based on the successful booth concept of the BAU fair 2019, will allow you to learn details about
WICONA products in a very entertaining way.
Present all over the world, WICONA proved its expertise through special projects like the Henninger Turm in Frankfurt and Alpengrand Royal
in Italy. The WICONA range offers the best options for the realisation of complex design concepts, that are unique in terms of technology and aesthetics. The collaboration with planners, fabricators and architects is our constant driver to develop and deliver the most suitable solutions
for the market requests.

Care, Collaboration and Courage are our values to support you, as customers and partners, to develop together better environmentally
adapted solutions. Sustainability is a matter of heart.

Dr-Ing Werner Jager, Director Technology and Marketing