Road show 2.0
Information away from hustle and bustle
Information away from hustle and bustle
What alternatives did architects, specialist planners and fabricators have, who were not able to attend the BAU in Munich? That's right —they visited one of the "NEXT Roadshow" events to inform themselves about novel innovations in the field of building envelopes.
After stops in Berlin, Hamburg and Cologne, the final event of this series of events took place on February 19 at the NEXT Studio in Frankfurt.
The NEXT Studio is an initiative spearheaded by WICONA and made up of a strategic alliance of various-, leading members of the building envelope industry. In the centrally located and jointly operated studio in Frankfurt featuring high-quality furnishings, the partners present their individual exhibits in changing displays. In addition, regular events are scheduled on various topics.
Click on the play button to watch the video.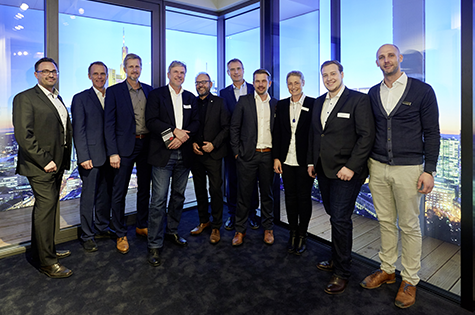 All the speakers with Martin Prösler as moderator.
WICONA, and the partners of the NEXT Studio, were also participating manufacturers of the NEXT Roadshow. After the success of -previous events, the final event earned highest acclaim in Frankfurt. Around 150 participants, from architects, specialist planners, metal fabricators to façade builders, learned about latest developments, implemented projects and technical features offered by NEXT partners WICONA, esco, Air-Lux, POHL, Warema, s:stebler, Flachglas MarkenKreis, Wahl and Rieder.
Informal and free
"No product show", "no hustle and bustle", "no time pressure" are all common statements that visitors of the NEXT Studio had to say. Information that, at BAU, can only be obtained by enduring great hustle and bustle was obtained free of charge during the Roadshow in an informal conference atmosphere. The same in Frankfurt.
From information on the sustainability of aluminium systems (WICONA has a leading position with a share of recycled aluminium amounting to 75 %) to free-form aluminium façades (Pohl) and contactless access control systems (esco), to weather-resistant and true colour surfaces for metal façades (Wahl) and functional glazing, which improves mobile phone reception (Flachglas MarkenKreis) and other lectures, planners and executives received valuable input for their professional everyday life.
Networking was the order of the day during breaks and after lectures. At our get-together, visitors received in-depth information even going beyond these lectures. And strategic alliances for joint projects have certainly been forged among the visitors as well.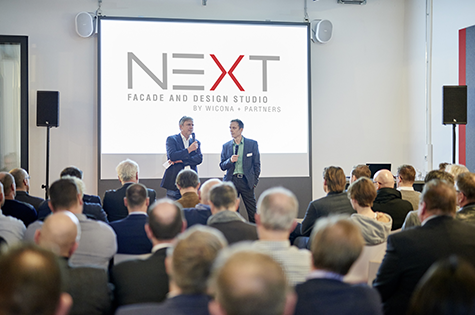 More than 150 participants came to the NEXT Roadshow to the NEXT studio in Frankfurt.