The Henninger Turm in Frankfurt
Metamorphosis of a landmark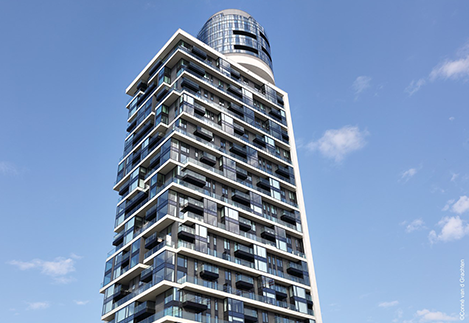 WICONA has met the highest performance standards with façades and window systems on the new Henninger Turm, enabling an impressive renaissance of the striking image of the innovative former industrial building in the memory of the City of Frankfurt am Main.
The Henninger Turm was one of the landmarks of the City of Frankfurt am Main for over 50 years. For a long time the tallest building in the city at just under 120 metres, a grain silo with a revolving restaurant in what was known as the "barrel", the Henninger Turm was a popular destination for at least two generations for residents of the Rhein-Main region, who felt a close link to this building.
Since the early summer of 2017, this landmark has returned to the skyline of the Main metropolis in the form of an ultra-modern high-rise residential building.
Its appearance is immediately reminiscent of the striking, innovative industrial building of the 1960s, but at the same time is completely new. Architects Meixner Schlüter Wendt have created a cubic tower with an off-centre cylindrical projecting top ("barrel") which rises from a six-storey base. The tower of the overall 140 metre-high building contains around 210 luxury apartments. The "barrel" on top of the distinctive complex holds a restaurant, a large viewing platform and four lofts each of 350 square metres. 
The silhouette has been filled with "varied living landscapes", according to the architects in a 2014 interview. They explained: "For this solitaire with the city landscape at its feet we wanted to create complex loggias and terrace areas which make the experience of this special exposed way of living really tangible.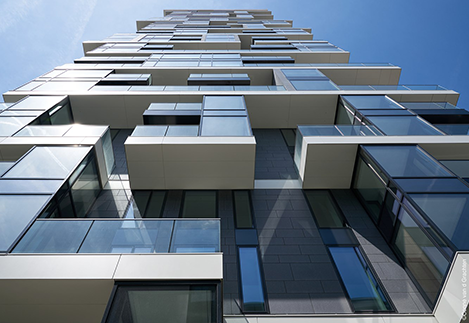 Click on the play button to watch the video.
It goes without saying that this premium high-rise residential building has attractive common areas such as a beautiful entrance hall with a pleasant atmosphere and a concierge service. What is more, the directly adjoining base construction provides residents with additional services in the form of retail trade, restaurants and fitness facilities.
A structure like the Henninger Turm presents a challenge, and not just for the architects. The suppliers and fabricators also need extensive know-how because almost all the windows, balcony doors, loggias and the unitised façade construction on the "barrel" are special solutions developed by WICONA.