Seminars and trainings
Expertise from professionals, for professionals
Following this motto, WICONA presents its newly compiled annual Seminar Programme for our brand partners – specialist planners, architects and fabricators. High-quality technical events offer you, the industry professionals, the highest utility value, both in theory and practice.
In addition to technical subjects, this programme also covers business-related content and software training courses. Construction physics, fire and smoke protection, hardware technology and statics are some of the main technical focuses of the seminars. In the installation seminars, the spotlight is directed at practical implementation: here, you will receive lots of useful tips and tricks for your work in the workshop and on site.
Click on the play button to watch the video.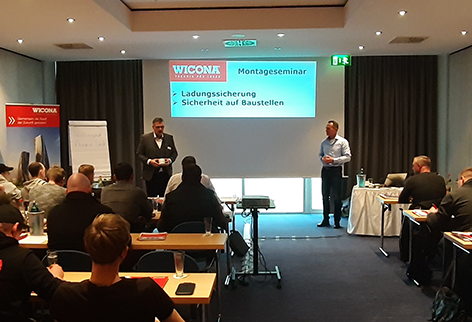 WICONA Seminar, Montageseminar, Leipzig
One particular event deals with the subject of element façades, so involves constructional details, design requirements and planning processes – from manufacturing and installation to testing, benefiting from our expertise at WICONA. Other specialist events include subjects such as façade planning, quality assurance and legal matters.
The software seminars provide you with the necessary knowledge to properly handle the planning and application programs, such as WICTOP, WICPLOT and WIC3D, that are relevant to your area of business. This offer is also available to you as webinars, direct to your home PC.
All WICONA seminars offer: High-calibre speakers that will share a lot of additional expertise with you as professionals: Prof. Christian Niemöller of SMNG Rechtsanwaltsgesellschaft (Firm of lawyers), Prof. Dr. Franz Feldmeier (ift Rosenheim), Prof. Jörn Lass (TH Rosenheim), Michael Lange of Prof. Lange Ingenieurgesellschaft (Engineering company) and Martin Schmitz of ÜWG e.V. (Quality surveillance company) present unbiased expert know-how that can be immediately put to use in your day-to-day business operations.
Regional distribution of seminars and events across the whole of Germany, Austria and Switzerland means that you don't have to travel too far for your WICONA seminars. Upon request, an event can also be run on-site at your premises as an in-house seminar or workshop. We would be happy to discuss your individual requirements.
You can obtain the best overview of the full WICONA training and further education offer in the newly compiled annual Seminar Programme and on the new home page www.wicona-seminar.com – where you can also register for the seminars directly.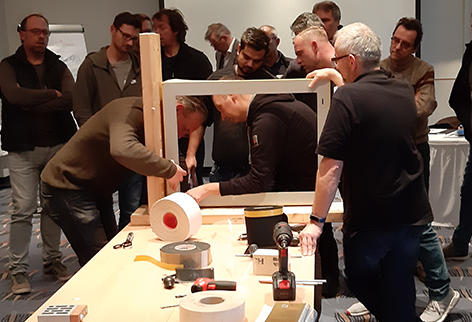 WICONA Seminar, Montageseminar, Leipzig (Germany)