Creating a more sustainable
future for urban development
A growing number of countries are striving for low-emission economies, and sustainability is more important today than ever. When it comes to sustainability, the construction industry poses particularly demanding challenges. Transport and raw material costs, as well as landfill– or the upcoming CO2 - taxes encourage the transition to sustainable solutions – und WICONA leading the way on this issue with an innovative new product from Hydro.
Click on the play button to watch the video.
Aluminium: a recyclable, durable and reliable solution
The growing demand for housing means that today's architects need highly developed solutions.
With this in mind, WICONA has developed new aluminium solutions which will have a sustainable impact on modern urban development. A new, repeatedly recyclable product converts materials from the dismantling of buildings into sustainable components that survive for generations.
How it works
HYDRO – with its WICONA brand – recycles old aluminium and returns it to the production cycle. This process is known as the "Circular Economy" . This also conserves precious aluminium resources, as there are often 30-, 40- or 50-year-old windows and façades from the dismantled building, which then serve as an "urban mine".
At present, system solutions that make use of this method have a certified and guaranteed 75% content, the highest content of recycled old aluminium on the market. Current EPDs (Environment Product Declaration based on Lifecycle Assessments (LCAs)) by HYDRO already demonstrate up to 82% EoL material. Old aluminium, which is also known as end-of-life aluminium, would probably otherwise be used in other areas, such as engine blocks or other casting applications and therefore no longer be available for re-used in the manufacture of a modern window or highly insulated façade. Each WICONA product with this material known as CIRCAL 75R is traceable and is independently certified.
Furthermore, "Urban Mining" has a significantly better carbon footprint than traditional raw material extraction. Approximately 2.3 kg of CO2 accrues per kilogram of recycled aluminium – six times less than the global average for primary extraction in bauxite mining. In addition, the manufacture of aluminium from recycled material requires only 5% of the original energy consumption.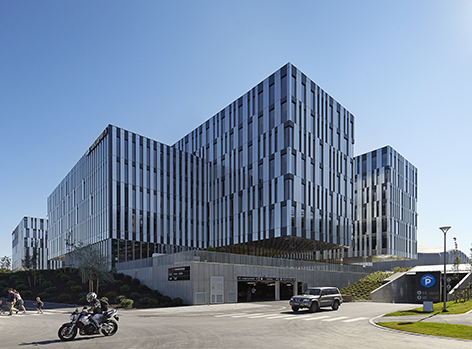 Fornebuporten, Norway - ©Hufton+Crow
Why aluminium?
Aluminium is one of the most reliable building materials on the market. It is lightweight, rustproof, structurally resilient and can also be used to easily create complex cross-sections.
In addition, it is an extremely high-quality and low-maintenance material. It requires no special treatment against weathering, corrosion or fungal attack. What's more, it is the earth's third most common element. When sourcing raw materials, these properties offer valuable time-saving, which makes aluminium a favoured solution for urban construction projects.
Meeting legal requirements
As a result of tougher environmental legislation in many countries, special sustainability plans need to be created for many larger construction projects. For example, construction managers must observe on-site disposal requirements for construction waste and, as part of these requirements, can take into account sustainable materials.
Furthermore, there appears to be a pleasing upward trend towards sustainable construction solutions: between 1999 and 2008, the proportion of recycled construction and demolition waste increased from 35% to 61%.